We are honest, reliable and guarantee professional 24/7 service from Jamaica's #1 Choice for air conditioning installation, service, maintenance and repair since  When you choose GREE Air Conditioning Service for your air conditioning and ventilation needs you'll have our 100% satisfaction guarantee and first-rate service:
We offer solutions for residential and commercial structures, and can help you when it's time to upgrade or replace your existing system.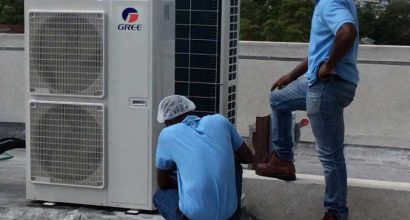 We provide maintenance and repairs for all our units via either factory trained in-house personnel or via Gree approved and trained authorized service providers
Let's face it — repairing or replacing your air conditioner can be a very costly and frustrating process. It is not something you do often, so you don't have a lot of experience to draw from.
Therefore, let us take the hassle out of getting your air conditioning unit, repaired.
Scheduled Preventative Maintenance
Regular preventive maintenance, performed quarterly, can help your system keep up with the dust and seasonal temperature swings.
Plus, it can increase air conditioners performance and help you avoid costly emergency repairs—because no one wants to be left without their air conditioning on these very hot Jamaican days. While most newer air conditioning systems require little maintenance, a quick tune-up can greatly extend the life of your equipment, ensuring it always runs at peak efficiency.
24 Hour Emergency Service
We can provide expert 24 hour Emergency Service available to you 365 days a year for your all your air conditioning needs. We are here for you, when you need us to service both your residential and commercial properties!
Call us to signup for our maintenance contract.